… How Tech Killed The Community Bank  – "Not Predicting, Just Sayin'"
by David McSwain, McSwain Consulting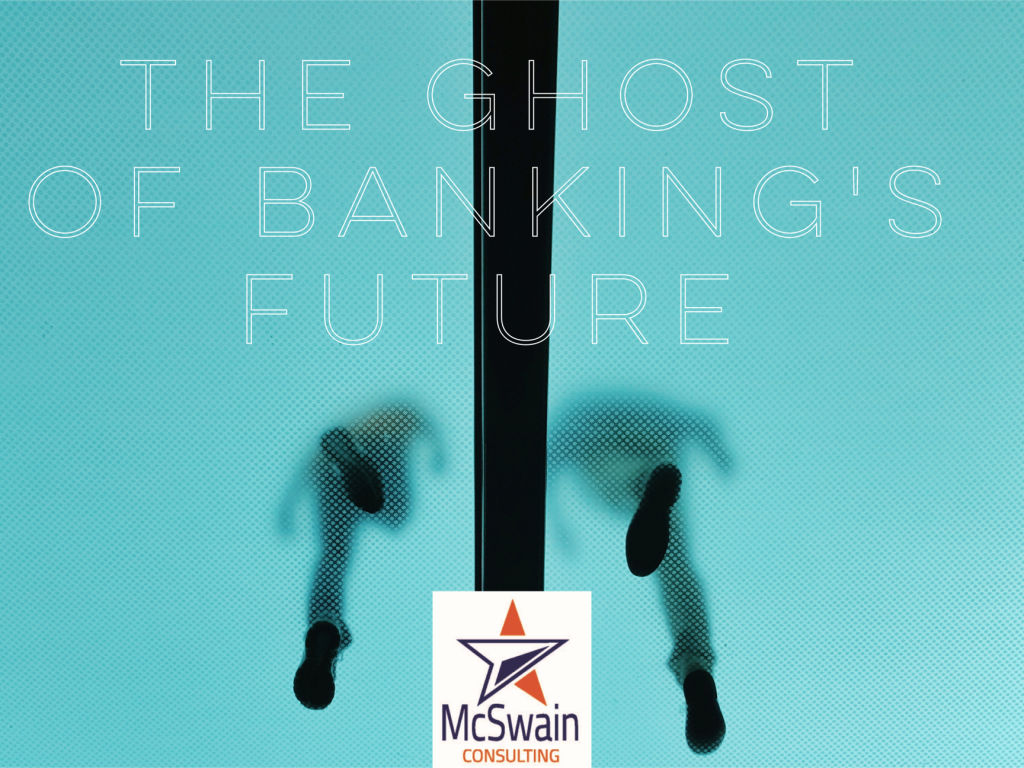 We all know the story of Scrooge. How the miserly old man was shown three ghosts during one night: the ghost of Christmas Past, the ghost of Christmas Present, and the ghost of Christmas Future. The moral of the story was that dear old Scrooge needed to change his ways to avoid a tragic future. The same could be said for the future of banking, particularly community banks.
A quick look at the past, which I was a part of since I was a teen working at a community bank in a small town in the '80s, is almost watching in slow motion because compared to today, that's how slow-paced banking was back then. Accounts were under someone's name, not a bank account. Account statements and canceled checks were hand-delivered. If you were born before 1985, you likely remember going to the bank with one or both of your parents. Lobby traffic was busy back then. You'd look forward to that free sucker or piece of gum for waiting patiently with your mom or dad during the transaction.
Then with technology – particularly computers and the Internet, the speed picked up. Drive-throughs weren't just a big deal for fast food anymore; banking saw their drive-thru traffic increase in the '90s, which not only affects face-to-face communication and customer service, but the need for such a big bank to begin with.
Banks got smaller and kiosks popped up. "Go where the people are" was the philosophy so stand-alone drive-thru for ATMs and deposits became a big deal in the '90s along with kiosks in grocery stores. When I had a bank in '94, we had $37M and 37 employees in one office. Fast forward to 2012 and we had 21 employees, 3 offices in 3 locations, 15 minutes apart from each other but $80M in the bank with 1/3 fewer employees. Do the math. Fewer people. Less square footage. More money. The kiosk idea came and went in the span of twenty years. Physical is out. Digital is in.
Then, dun, dun, dun: e-checks. Mobile phones and apps continued to grow into the 2000s and here we sit in 2017 with the ability to do all our banking right from our desktop or mobile device. Log in and password? Check. Mobile app for the bank? Check. Ah, but wait. If you no longer have a relationship with your local banker or go in to get that free sucker – if they are just a faceless click on the screen – why not shop around for loans? Why not invest in the hottest new app that all yur friends are using? You can even – gulp! – get approved with just a few clicks with NO IDEA where or who is handling your loan. And, you know what? Most folks don't care. Especially not the Millennials. They want the latest, greatest, easiest, and they want it now.
Whew. And that's just the ghost of the Present! What of the ghost of the future?
Where banking is going can either be exciting or downright scary, depending on how prepared we (as community banks) are to deal with the changes.
If digital is in, what does that mean for the community bank? Embracing tech sounds like a pretty smart strategy. Let's take financialtown.com software company, for example, It's a video app where one can push documents out to the customer while on a video conference. Convenient? Absolutely. That's where banking is going.
Will human interaction go away? Maybe not for a couple more decades, but it will certainly evolve. But what this does or the community bank who already has loans with the good ones and has run off the bad ones – now you have, dun, dun, dun: the world! That's right. With the Internet and apps and a niche, a community bank can survive and thrive. Sure, federal regulators must be up to speed and get the regulation going that allows companies like FinTech to lead innovations for bankers, but that's the direction our society – and banking – is going. The trends are happening so fast something may have changed by the time I finish this think piece. But you see the new baby pictures your friends put up on Facebook? That baby may never step into a bank when he or she's of age. It could be right there, on
phone, which might even his be smaller than the iWatch his mother is wearing. He or she might just have to blink three times to get a loan secured through the phone in the chip in his head.
I only wish I were kidding.
 David McSwain is an Oklahoma bank consultant and president of McSwain Consulting providing loan risk management solutions and bank consulting services to community banks in Oklahoma, Texas, and Kansas.