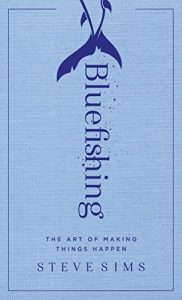 Steve Sims, the man who created Bluefish, the internationally famous company that makes once in a lifetime events happen for the rich and famous, reveals to the rest of us his trade secrets for making things happen.
The core of his philosophy focuses on simple, yet effective ways to sharpen the mind and gain practical skills that can help you learn a new perspective and accomplish anything. Whether it's climbing Mount Everest, launching a business, or applying for a dream job, you can make incredible things happen for yourself by applying his insightful advice such as:
-Ask Why Three Times
-Never be the First Call
-Don't be Easy to Understand, be Impossible to Misunderstand
Asking why three times: "The first why is what they think they think, the second why is what they think you want to hear, the third why is what they feel."  The third why is the most important part of connecting to the real want or need.  We are in such an instant society that most people you are doing business with aren't really connecting. You know what I am talking about. When you do business with people that are just performing their jobs for a paycheck, but you really know when they "Give a Damn".  The three why's give you a chance to sift through the "vampires" that will suck all your time and energy.Sims is adamant about creating your community which he refers to as your brand.  Then protect your brand through personal relationships that are getting lost today because it's easy to hide behind technology.  I discovered Bluefishing is taking a business to a whole new level through experiences.
At McSwain Consulting, we've had the experiences – all the nitty gritty and huge roller coaster rides through risk assessment and management – so that you don't have to.  We do our very best to keep you from having to go through them – to keep an eye out for what's ahead and the storms that could be headed your way.
If you're an entrepreneur or leader in your organization, I highly recommend Bluefishing to see how you could make more happen in your life and what could be getting in the way. Find out more about the book here or wherever books are sold.
____________
David McSwain is an Oklahoma bank consultant and president of McSwain Consulting providing loan risk management solutions, bank loan review services, and bank consulting services to community banks in Oklahoma, Texas, and Kansas.