by David McSwain
A consistently scheduled external loan review program will help to do exactly that. Problems do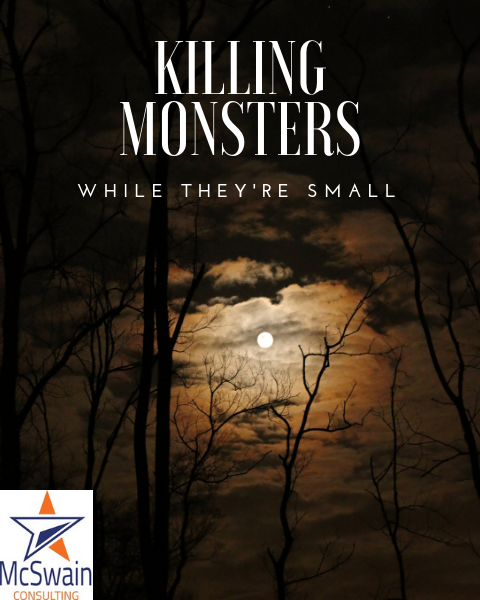 not magically appear overnight, they grow without being noticed because the problem gets played off as an isolated situation. Then the creep sets in as motion and momentum begin. Once this process reaches maturity, it is very difficult to overcome, especially if it has gone unnoticed for an extended period of time.
For example, a loan or group of loans tied to a particular industry start to experience cash flow problems.  Those problems manifest in past due loans and/or overdrafts.  We take swift action to correct the situation without really understanding the true nature and severity of the real problem. We are able to get the past due loan resolved or the overdraft covered without asking the key question: WHY?  The problem reoccurs and now it has our undivided attention. Unfortunately, we still have not recognized the underlying loan portfolio credit quality deterioration that has been growing and evolving. We should recognize that a single troubled credit does not constitute a systemic problem. However, the weakest loans should be a wakeup call that there may be problems larger and more complex than one or two loans that are experiencing difficulty.
Finally, we look up one day and we have several problem loans. Now our laundry is aired and loans with similar characteristics from an underwriting or industry perspective start causing pain.
A consistent and regimented program of external loan review is an important line of defense against the monsters that may be lurking within the bank's lending function. Waiting for the eve of the next exam is like waiting until Godzilla is at the door before action is taken.
Three signs that you may have Godzilla in your bank are 1) rapid loan growth in any one call report bucket 2) creep in past due loan over the past few quarters 3) an increase in TDR loans.
For more information about Loan Review, ALLL Review, CRE Stress-Test or to schedule a consulting meeting for 2019, contact McSwain Consulting at 405-880-1039 or email david@mcswainconsulting.net. McSwain has battled a lot of Godzillas and knows how to deal with them.