You are sitting in your office studying your bank's third quarter financial statements and reports.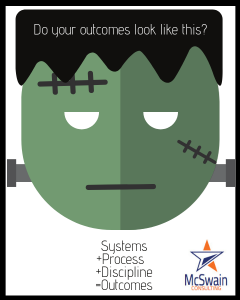 WHAT the heck happened?  That empty feeling hits deep in the bottom of your stomach and indigestion sets in!  You are well below budget or vastly exceeded your budget. Past dues are higher over the past six months and your investment portfolio didn't quite perform as well as you thought.  The loan renewals are coming in with tighter debt coverage ratios. It appears your customers' margins are getting squeezed.  Dang, the bank's margins are compressing due to rising rates in your deposits.
Now you need to start your budgeting process with your management team and it appears your team will need to budget down for 2019. You also have the responsibility to inform the board the bank isn't going to make the budget.  WOW!  Maybe you feel the need to make some calls to your largest shareholders and let them know the bad news.  Dang, the annual shareholders meeting is going to be intense.  2019 sure is going to be a tough year because the Fed keeps raising rates.  The next exam is going to be tough!  The economy is very good, but my bank is experiencing things it shouldn't be.  ALSO, this CECL thing!  WHY!
WRONG!  This is your story!  REALITY:  It's the direct result of your systems + processes + disciplines.  It's the outcome you were going to receive because actions and focus were not on your systems + process + discipline.  You reached a little here and a little there.  The creep set in, and because creep is slow, you didn't recognize it.  Most likely you didn't remember the OUTCOMES you were trying to achieve.  You didn't ADAPT.
But now you get the opportunity to react. Reaction takes much more ENERGY, RESOURCES, CAPITAL, and STRESS.  MCSWAIN CONSULTING takes a deep dive into your systems + process + disciplines through our proven methods.  We will identify weaknesses so that you can be proactive.  We will get you the information to avoid major mistakes.
Three things you should benchmark:
1)Loan Growth Rate v Capital Growth Rate
2) Past Dues, TDR's and Non-Performing Loans
3) Net Interest Margin
MCSWAIN CONSULTING can help.  We offer Loan Reviews, CRE-Stress Testing, System and Process Reviews, ALLL Reviews and General Consulting!  Our team of consultants has over 145 years of combined banking, consulting and business experience.  We have seen many different business cycles going back to the 1980s.  Contact us today to discuss a REALIGNMENT for 2019.