In general, people are good.  In general, people have good intentions and speak from the heart.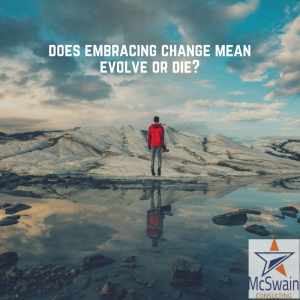 Until criticism takes place.  In its true nature, being a consultant is being critical.  Someone pays you for a service that is provided to be critical. The criticism isn't meant to be rude, undermining, or even "bad."  It's meant to be helpful.  It's meant to make my client better.  However, recently I learned a valuable lesson. The lesson: not all people want to get better.  
Through my "Thinking Time", I couldn't bring myself to believe someone such as a high-level bank employee doesn't want to improve if they can. I pondered this for days. Finally, I went through several levels of why, trying to make myself better.  I pondered that perhaps it was the way I was presenting the information. Perhaps it's embarrassment.  Oddly, I mentally replayed several of the conversations that took place over a few weeks.  Why were some people receptive to the criticism and why were some almost indignant?
A few days later, it hit me like a ton of bricks. The story I told myself that it wasn't the delivery because I have been in the clients' seat for over 20 years and I take pride in not being hard in the delivery.  I know what it is like to be criticized.  I know that it's embarrassing to be criticized in front of your boss, your peers, and your friends.  I followed the "Golden Rule".  The A-ha — it's change itself.  People don't like change!
Change can be paralyzing for some and some thrive in change.  If there is anything in the world that is certain, CHANGE is guaranteed.  This week, the U.S. House of Representatives passed S. 2155 and the President signed it. This bill gives community banks some very needed regulatory relief. This is going to be a CHANGE.
Additionally, this morning, I received a transcript of Chairman Martin J. Gruenberg's quarterly update on the banking industry via email.  Change is in the air!  To me, Chairman Gruenberg's message was that we are in the latter stage of the business cycle.  Change may be coming.
Now is the time to prepare for "Winter", so your bank's business model is sustainable for any type of downturn when it happens.  Interest Rates have been changing!  Loan maturities have extended and the business cycle is going through its processes to reach equilibrium.  When the cycle reverts to equilibrium, more change takes place.
If you are a bank in Oklahoma, Texas, or Kansas and want to prepare for "Winter", please call on McSwain Consulting. I not only help my clients navigate change for the better but to look way ahead for what's coming, even when it's not so pretty. Is this a case of evolve or die? Why not embrace change and go for it for our banks…and our communities to not only survive but thrive.
_________________
David McSwain is an Oklahoma bank consultant and president of McSwain Consulting providing loan risk management solutions, bank loan review services, and bank consulting services to community banks in Oklahoma, Texas, and Kansas.